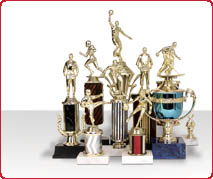 Special Edition Section:
Champion Sports Sites
Every sport, major or minor, has an active online presence. To get you started on your surfing, here are some popular sites dedicated to baseball, basketball, soccer, football, and fantasy sports.
Baseball
www.mlb.com The official site of Major League Baseball includes audio and video clips, interviews, statistics, schedules, and exclusive stories.
www.minorleaguebaseball.com Get Minor League Baseball news, scores, standings, schedules, and fantasy league information.
www.baseballhalloffame.org The National Baseball Hall of Fame & Museum lists Hall of Famers and lets you listen to legends in "Voices of the Game" section.
www.cwsomaha.com The College World Series site includes schedules, brackets, tickets, photos, and video gallery.
www.baseball-almanac.com Take a look at baseball history including trivia, stats, player biographies, team rosters, and team schedules.
Basketball
www.nba.com It's all here — NBA news, teams, players, scores, rankings, stats, schedules, tickets, photos, video, and fantasy leagues.

www.wnba.com Find comprehensive news and information on the Women's National Basketball Association.

www.collegehoopsnet.com College Hoops Net features polls, NBA draft, NCAA tournament, basketball history, and Top 100 players.
Soccer
www.worldcup.com Get World Cup news and all the other top soccer news from around the world, from World Soccer News.
www.collegesoccernews.com College Soccer News includes All-American teams, Top-40 recruiting classes, national polls, news articles, and team reviews.
www.ncaasports.com/soccer/mens
www.ncaasports.com/soccer/womens
Get NCAA men's and women's soccer updates for Division I, II, and III as well as statistics and polls.
www.socceramerica.com This site focuses on professional soccer news but also includes information on the youth and college levels.
www.ussoccer.com U.S. Soccer Network's site offers professional soccer schedules, tickets, team updates, and details on upcoming events.

www.stasoccer.com If you coach soccer in your community, this Soccer Trainers of America site can provide resources about clinics, camps, and individual training.
Football
www.nfl.com The official site of the National Football League includes the latest news on teams, players, scores, stats, standings, and fantasy leagues, as well as the NFL store. This is also the place to go for Super Bowl coverage.
www.ncaafootball.com Check out the NCAA Football site for college scores, polls, stats, division information, schedules, video, and TV listings.
www.collegefootball.org The College Football Hall of Fame site features an online tour of the museum's exhibits.
www.football.com Visit this one-stop football site for news on the NFL, CFL, draft picks, college football, arena football, and fantasy leagues.
www.nflhs.com Known as the "home of high school football," this site includes tips of the day, state news, and details on NCAA eligibility.
www.maxpreps.com Max Preps provides high school football news, photos, rankings, stats, and video.
Biking
www.bicycling.com
www.usacycling.com
www.bikereg.com
www.dirtworld.com (Mountain biking)
Boxing
www.usaboxing.com
www.hbo.com/boxing
www.eastsideboxing.com
Bowling
www.bowl.com
www.pba.com
Figure Skating
www.usfigureskating.org/
www.isu.org (International Skating Union)
Fishing
www.fishing.com
www.fishingworld.com
www.takemefishing.org
www.saltwatersportsman.com
www.fintalk.com
Golf
www.amateur-golf.com
www.pgatour.com
www.lpga.com
www.masters.org

Olympics
www.olympic.org
www.usoc.org
Road Racing and Marathons
www.arrs.net (Time records and runner rankings)
www.runningusa.org
www.coolrunning.com
www.marathonguide.com
www.nike.com/nikerunning (Includes online training log and training program)
Skiing and Snowboarding
www.skicentral.com
www.skinet.com
www.snowboarding.com
Softball
www.usasoftball.com
www.softball.org
Surfing
www.surfingthemag.com
www.surfline.com
www.surfingmuseum.org
Swimming
www.usaswimming.org
www.clubswim.com
www.swimmingworldmagazine.com
Tennis
www.tennis.com
www.usta.com
www.wimbledon.org
www.usopen.org
Thoroughbred Racing
www.ntra.com
www.tra-online.com
Track and Field
www.usatf.org
---
Fantasy Sports - The Teams are Virtual but the Prizes are Real
A fantasy sport (also known as rotisserie, roto, or fairy-tale sport) is an online game where participants build a fantasy team that competes against other fantasy teams based on the statistics generated by real-life players or teams of a professional sport. In some fantasy leagues, winners receive a portion of the entry fees, which vary depending on the number of players in the league and how much everyone antes up. On other websites, you may simply win a T-Shirt, virtual trophy, and bragging rights. Fantasy sports pit one participant's acumen and gut instinct against another's, and therein lies the true appeal.
The Fantasy Sports Trade Association (a group of more than 240 companies, leagues, and publications in the fantasy sports industry) estimates that 22 percent of U.S. adult males 18 to 49 years old with Internet access, play fantasy sports. The FSTA says about 16 million U.S. adults played fantasy sports in 2006, and the business is estimated to have a $3-$4 billion annual economic impact across the sports industry. Football is the most popular fantasy sport, but others include basketball, baseball, golf, auto racing, and hockey.

Fantasy sports have enjoyed tremendous growth in recent years due to their increased visibility on the Internet and the sheer volume of options available to enthusiasts. Fans are lured by blogs, message boards, and a host of other social-networking capabilities that let people easily research, build teams, and debate strategies.

These games have humble beginnings dating back to 1980, when magazine writer/editor Daniel Okrent developed Rotisserie League Baseball, named after the New York City restaurant La Rotisserie Francaise where he and some friends used to meet and play. It worked like this — "owners" in a Rotisserie league would draft teams from the list of active Major League Baseball players and would follow their statistics during the ongoing season to compile their scores. During the 1981 Major League Baseball strike, with little else to write about, many baseball writers wrote columns about Rotisserie League Baseball and the concept started to spread to other sports as well. By 1988, USA Today estimated that five hundred thousand people were playing, and the rest is history.
Getting in the Game

There are many fantasy sports leagues now available online, each with their own rules, game format, and prize structure. You'll want to do some scouting to find the one that best fits your preferences in terms of cost, time requirements, style of play, statistical resources available, and so on. Make sure you read the fine print in the Official Rules before you commit to participating, so you won't be surprised later by fees or hidden costs. Then relax and have fun!
You'll find plenty of helpful advice online for getting started with fantasy sports. For example, basic tips and strategies for playing fantasy football can be found at sites including:
• www.squidoo.com/fantasyfootball101
• www.fftoolbox.com/how_to_play.cfm
Here's a list of related sites to get you started in the virtual fun.
• http://msn.foxsports.com/fantasy
• http://fantasysports.yahoo.com
• www.sportsline.com/fantasy
• http://games.espn.go.com/frontpage
• http://web.minorleaguebaseball.com/milb/fantasy/
• www.baseball-links.com/links/Fantasy_&_Rotisserie_Baseball
• http://fantasy.mlsnet.com
• www.nba.com/fantasy
• www.nfl.com/fantasy
• www.nhl.com/fantasy/index.html