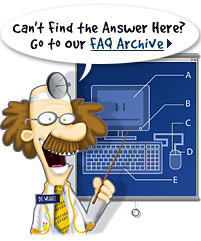 Frequently Asked Questions:
Ask Dr. Webbie
Answers to Your Internet Questions
Is there an Internet question you'd like to see answered in a future edition of Website Compass? E-mail your question to DrWebbie@WebsiteCompass.com.
To assist him in answering your question as specifically as possible, be sure to include the following: the name of the browser you are using (i.e. Microsoft Internet Explorer 5.0, Firefox 1.0, etc.), the name of the e-mail software you are using (i.e. Microsoft Outlook Express 5.5, OS 10.3 Mail, etc.), and the version of your system software (i.e. Windows 98, Windows XP, etc.)
Q. What does ISP mean?
A. ISP is short for Internet Service Provider, a company that connects its subscribers to the Internet.
Q. I've heard that Microsoft Corp is no longer supporting Windows 95. Is this true?
A. Yes. Due to the large majority of PCs now running Windows XP, Microsoft has announced that it will end its extended support for all versions of the Windows 98, Windows 98 Second Edition, and Windows Millennium Edition operating systems (and their related components) effective July 11, 2006. This means no more technical support, incident support options, or security updates related to these operating systems.
If you still plan to use Windows 98 or Windows Me operating systems, existing web-based support documents will continue to be available at http://support.microsoft.com/ph/1139 for Windows 98 and http://support.microsoft.com/ph/6519 for Windows Me. However, please note that it will soon be more imperative than ever that you utilize virus-scanning software and update this software on a regular basis when using Windows 98 or Windows Me.
Q. I was thinking of creating a profile on MySpace.com but I want to be selective on who sees it. Is it possible to only allow certain people to see it or is it automatically open for the world to see?
A. Log in and go to your MySpace page. In the "Hello" area, click on "Account Settings." Under "Privacy Settings," click "Change Settings." Next, click the check box next to "My Friends Only" in the "Who Can View My Profile" section. From then on, only people marked as your friends will be able to view your profile.
Q. Can I use the same e-mail address on more than one computer?
A. There are a few different ways to use the same e-mail address on multiple computers and some ways are better than others.
The first way is to access the same e-mail account by using the same settings–i.e. the same e-mail address, password, incoming and outgoing mail servers, etc.—on the multiple computers you plan on using. But, by default, most e-mail programs will download and delete messages from the mail server. In order to retreive the same e-mail messages from more than one computer, you'll need to change the settings of the e-mail programs on all of the computers to leave a copy on the server for a few days. The drawback to this method is that you won't have copies of sent messages on all the computers and, if you set the time limit that the messages are saved on the server too short, you might miss copying them.
The second way is to use the Internet Message Access Protocol (IMAP.) IMAP is designed for people who travel and use more than one computer. Basically, IMAP stores the e-mail remotely on the mail server and not locally on your computer. It allows you to access the same data stored in the same location and not have multiple copies distributed across several machines that will change independently. This means if you mark a message as "read" from one computer it will be marked as "read" when you access it from another computer. One of the main disadvantages of IMAP is having to maintain your mailbox to stay within your storage quota.
The third way is to simply always use a web based e-mail interface (a.k.a. webmail) if it's available through your ISP for your e-mail account. The disadvantages of this method are having to maintain your mailbox to stay within your storage quota and not being able to access any of your e-mail when you don't have an Internet connection.
Q. What is a .rar file?
A. ".rar" files are compressed archives using the RAR file format. If you download a .rar file you'll need decompression software compatible with the RAR format—such as WinRAR or StuffIt Expander—to decompress it. Visit http://en.wikipedia.org/wiki/.rar/ for a lengthier explanation of the RAR file format.
Q. I try to keep control of my kids' access to the Web by blocking certain sites in my router. However, I have just learned, thanks to my daughter, about a site call www.atunnel.com. It appears to use a multitude of different URLs to beat the parental control or block. It seems to just be in a loop and never finish loading. I know I can block it if I use the "block all sites" feature " in my router, except for those I specify, but that's not very practical. So is there any other way to block these "tunnel" sites?
A. For starters, you can set your router to block "www.atunnel.com" and "atunnel.com". However, it's almost impossible to block every "tunnel" site, commonly known as "proxy servers," out there because there are hundreds, if not thousands, of such sites on the Internet. You can do a Web search for "proxy servers" or "proxy list" to see how many there are out there. If you're able to generate a report from your router that lists the sites that your daughter visits, you can always add the new ones onto your router's block list as they appear—but that's reactive and not proactive. Rather than block (blacklist) sites you might be able to allow (whitelist) sites that you allow your daughter to visit.
One of the best ways to block unapproved sites is to install and maintain a content filter. The vendors that produce the content filters maintain a large database of content categories and update the categories constantly. Such software will only allow your child to view the approved sites. You can also contact your ISP to see if they offer any content filtering services.
Overall, a combination of blocking or allowing sites, content filtering, and parental supervision will probably work the best but there is no "magic bullet" to fix this problem. If you're interested in content filtering software, try netnanny.com, cybersitter.com, or cyberpatrol.com.
Q. One of my friends uses iTunes to get all of her music. Is this the best way to go?
A. Well, it depends. iTunes songs come with Digital Rights Mangagement (DRM) built-into them that limits the playback options and are compressed in an audio format that isn't quite up to audiophile standards. You'll also need an iPod to play the music you buy on iTunes away from your computer unless you burn CDs of everything.
Otherwise, the price and selection of music available on the iTunes store is pretty fair. So if you want to play the music on a non-iPod device or have high standards for audio quality, stick with traditional CDs. If you already own an iPod, then iTunes is worth the consideration.
Q. The times on my e-mail messages do not appear to be correct. Why does this occur?
A. When you send an e-mail, your software will typically add the time to the "Date:" header based on the local time of your computer. If this does not happen, then the first receiving mail server fills in the "Date:" header using its own current time. The time listed in the "Received:" header is written by the mail server through which the message passes to get from sender to recipient.
Every computer that writes a time stamp in a message header keeps it own time locally. Keep in mind that the exact times on computers may differ slightly, and time zones across the country vary.
Q. Why does my Internet Service Provider sometimes do system updates?
A. Regular system updates are essential in order to provide customers with the most efficient and reliable Internet service possible. Your ISP will perform system updates on their own equipment only; they will not interfere with any settings on your computer. You can expect to be notified about these updates in advance, and informed of any potential Internet service issues that may occur.
Q. Sometimes after I send an e-mail, I receive an e-mail saying, "The message could not be sent because one of the recipients was rejected by the server." What does this mean?
A. This means there is an error in one or more of the e-mail addresses. Perhaps you accidentally typed an extra letter, misspelled the name, or the address is no longer valid. Carefully compare the e-mail address you wrote to your records, fix the mistake, and try to send it again. If that is unsuccessful, contact the recipient by phone to see if the e-mail address needs to be updated.
Q. I want to remove someone from my e-mail address book. How do I do this? I use Microsoft Outlook Express 6.0 via Windows XP Home Edition.
A. Follow these steps to remove a contact:
1. With Outlook Express open, click on the "Addresses" button on the toolbar.
2. In the "Address Book" window, click on the name of the contact you wish to remove in order to highlight it.
3. Click the "Delete" button. Click "Yes" when asked, "Are you sure you want to permanently delete the selected item(s)?"