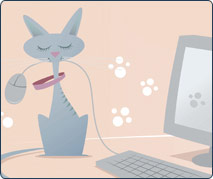 Internet Connections:
"Purrfect" Computer Performance
Maintaining Your Computer for Optimum Performance
Not many things work like they did when they were brand new and your computer is no different. The more you use it, the more it becomes prone to bugs, viruses, and other problems. But good maintenance practices can make your computer experience trouble-free.
Good computer care can be categorized like this: Protection from outside intrusion, hard drive maintenance, and physical care. Let's look at all three.
Stop The Bad Guys
It's a jungle out there. Hackers and questionable business practices make your new computer susceptible to viruses, worms, and spyware.
Make sure your computer has a personal firewall and an antivirus program up and running the first time you go online. Make sure this software is updated regularly.
• Personal firewall software manages communications between your computer and a website, blocking or calling your attention to executable files and other communications that put you at risk.
• Anti-virus software finds and removes viruses, worms, and other maliciously-constructed programs from your hard drive.
• Spyware-blocking software removes inadvertently downloaded software that monitors and gathers data about your computing activities and information.
Check with your Internet service provider to see which software it recommends.
Review cookies. Periodically review the "cookie" text files websites deposit on your hard drive or in temporary memory. Most cookies help you use the website that gave them to you. But if you have hundreds or if some look fishy, delete them.
A Happy Hard Drive
Hard drive maintenance becomes a priority when files and software installations start piling up.
Cleanup and Defragmenter. The Windows operating system has two handy tools for hard drive maintenance: Disk Cleanup and Disk Defragmenter. Disk Cleanup lets you free up hard drive space by indicating which files, mostly temporary program and Internet files, can be deleted or compressed. Disk Defragmenter groups scattered file parts into complete-file segments. Run both utilities periodically to improve your computer's performance.
Temp Files. Deleting temporary Internet files quickly frees up hard drive space. On Internet Explorer's Tools menu, select Internet Options and then click the Delete Files button on the General tab.
Back It Up. If your hard drive crashes, all is lost—unless you periodically back up your data. Windows' Backup utility makes the process easy or you can buy a third-party utility for greater backup capabilities.
Clean Machine
Your new computer's performance faces threats from heat, moisture, and dirt.
Heat. Prolonged exposure to heat can zap a computer's circuitry. Keep your computer away from direct sunlight and heating vents.
Moisture. Humidity shorts out electrical parts so keep a dehumidifier near the computer if necessary. Electronics hate water—not to mention soda and coffee. Keep them away.
Dust. Dust can build up on a computer's cooling fan, causing overheating. If this isn't addressed, hardware failure can result. Here's a cleaning checklist:
• Keep the computer well-ventilated.
• Use compressed air to clean the cooling fan and drives.
• Clean a keyboard by turning it upside down and shaking it gently to dislodge debris. Use compressed air between the keycaps.
• Clean a mouse with compressed air and lint-free swabs.
Use these tips to maintain your computer and it will be purring in no time.
---
10 DON'TS When Cleaning Your Computer
Knowing what not to do is as important as knowing what to do when cleaning your computer.
1. Don't clean a computer unless it's turned off.
2. Don't clean a computer's insides with a vacuum or cloth. Instead, gently spray parts with compressed air.
3. Don't unplug cables or connections coming from the computer.
4. Don't spray cleaning solutions directly onto a computer. Spray the liquid onto a cloth and then rub down the components.
5. Don't smoke, eat, or drink close to your computer.
6. Don't get anything wet inside the computer.
7. Don't place the computer tower against walls or other objects. This restricts vital airflow.
8. Don't use ammonia-based cleaners (such as Windex) to clean LCD monitors. Instead, use a water-dampened soft cloth or a lint-free wipe.
9. Don't jostle exterior knobs and buttons when cleaning. This could change monitor and keyboard settings.
10. Don't operate your computer with dirty hands. This soils the keyboard, mouse, and monitor.
---
6 DO'S For Maintaining Your Windows XP Operating System
1. Install anti-virus software and keep it up-to-date with the latest virus definition files. Schedule it to check your computer regularly for viruses and spyware.
2. Regularly check for operating system software updates using Microsoft Update.
3. Back up your data periodically to prevent data loss and failure.
4. Use System Restore to create a "restore point" for your computer. You will then be able to restore your computer to it's settings and performance at the time you made the restore point if any harmful changes are made by installing new programs.
5 Get rid of files you don't need. Clean up files left over after installing programs and other temporary files by running Windows XP's "Disk Cleanup."
6. If your hard drive is fairly full and you have recently been copying/deleting many files or installing/unistalling programs, defragment your hard drive with Windows XP's "Disk Defragmenter."