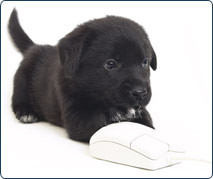 Browser Basics:
Teach Your Browser New Tricks
Extending Your Internet Explorer Browser
Is your Microsoft Internet Explorer web browser living up to its potential? The answer is a definite "no" if you don't use free software plug-ins and extensions to expand your browser software's capabilities.
Plug-ins are small programs that join with a web browser to make the browser more useful and work directly through the browser itself. The audio, video, and moving graphics that make today's Web so entertaining and useful are largely inaccessible without plug-ins.
Software companies and individual inventors develop new plug-ins all the time—there are hundreds, if not thousands, available. Most are free to download; some cost a few bucks. Some give your browser dramatic new capabilities; some perform one small task. The key is to pick the ones that best suit your needs.
Here's a look at the most popular free plug-ins, plus some places to find others.
Macromedia Flash Player 8
Macromedia's Flash technology helped turn the Web into today's graphics-rich medium. Web designers use Flash to create animation, moving graphics and pictures, games, and other interactive content such as animated banner advertisements. You need Flash Player to view these creations.
Flash technology is such an important web development tool that Flash Player is almost a necessity, making it the most-popular browser plug-in.
Free download:
macromedia.com/software/flashplayer
Adobe Reader
Adobe Reader, formerly known as Acrobat Reader, is the plug-in you need to view Portable Document Format (PDF) files. PDF is the de facto standard for sharing documents over the Internet. Think of it as a fax without the fax machine. With PDF, documents of just one page or hundreds of pages can be created in just one file.
Adobe Reader lets you view a document, not change it. PDF files themselves are created with Adobe Acrobat and other software which isn't free.
Free download:
adobe.com/products/acrobat/
Media Players
Media players are the essential plug-ins for playing video and audio you find online. The two most popular plug-in media players are QuickTime and RealPlayer.
The Viewpoint Media Player plug-in is growing in popularity. Its strengths are displaying three-dimensional models, Flash creations, and streaming video.
To learn more about media players, see the Beyond the Basics article of this issue.
Free downloads:
QuickTime - apple.com/quicktime/
RealPlayer - real.com
Viewpoint - viewpoint.com/pub/products/vmp.html
MSN Toolbar
MSN Toolbar adds features to Internet Explorer and Windows that are a must-have for the more savvy Internet user. These features include tabbed browsing, pop-up blocking, auto-form fill, desktop search, and a few other "add-ins" that extend Internet Explorer's capabilities even farther.
Tabbed browsing lets you view multiple web pages in "tabs" instead of multiple windows which saves on a lot of desktop clutter. And the MSN Toolbar add-ins range from anti-phishing protection and weather updates, to live favorites that you can access from "any computer, any time, any where."
Free downloads:
http://toolbar.msn.com/
http://addins.msn.com/
Other Plug-ins
There are hundreds of other plug-ins, most of which perform one specific task. Your best bet to find plug-ins is a search engine keyword search for "free plug-ins" or "plug-ins." Download.com and WindowsMarketPlace.com have huge lists of free downloadable plug-ins. Here are some of our favorites:
LittleBigBar
Bundles Google, Amazon, Yahoo!, and eBay toolbars into one tidy package.
windowsmarketplace.com/specs.aspx?itemId=12763&stext=
UltraBar
Google toolbar-like software that supports multiple search engines.
windowsmarketplace.com/specs.aspx?itemId=12176&stext=
IESpell
Spell-checker for web page text-input boxes.
windowsmarketplace.com/specs.aspx?itemId=1513531&stext=
So if you're tired of hearing how great "tabbed browsing" is or you just want be able to browse the Web without problems, then teach your browser some new tricks.