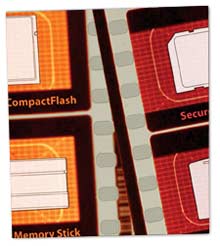 Memory Cards, Memory
Sticks & More
After buying a digital camera, you probably won't think about its memory card—until just a few images have stuffed its 16- to 32-megabyte (MB) capacity.
That's why buying an extra memory card, often called "flash memory," is a good idea. There are many models, but your camera type often will dictate your purchase. Here are a few of the most-popular cards:
CompactFlash.
CompactFlash's large capacity and compatibility with most cameras, including all digital single-lens reflex (SLR), make it popular.
Capacity range: 32MB to 4+ GB
Secure Digital & MultiMedia Card.
Flash memory for small cameras.
Capacity range: up to 512MB
Memory Stick.
For Sony cameras only.
Capacity range: up to 256MB
xD Picture Card.
A new flash memory format for Olympus and Fuji that, with an adapter, can be used in CompactFlash-compatible computers.
Capacity range: up to 512MB
When you're ready to permanently store photos, you can transfer them from flash memory to a storage medium of your choice.
Use your camera's USB-compatible cord to transfer images to a computer's hard drive. But even then, backing up the images to a separate storage device, such as a ZIP drive, is a good idea. You might consider a digital image storage device—an expensive, portable hard drive that holds oodles of images.
As an inexpensive alternative, use a disc burner to store images on writable CDs and DVDs.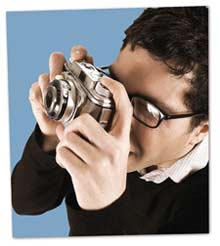 Sharing Digital Photos with Friends and Family
Photos are for sharing, and digital technology gives you many ways to exchange images with others.
E-mail.
Attaching digital photos to e-mail messages is easy and cheap, making it the most popular way to share photos. Here are some tips:
Make sure photos for onscreen use only are saved as .JPG (JPEG) files at 72dpi (dots per inch) using RGB (red, green, blue) colors. This format is standard for sharing images online.
Make sure photo sizes are reasonable. We recommend 3-by-5 or 4-by-6 inches. Smaller photos are hard to see, and larger ones take recipients too long to download, especially with slower Internet connections.
When sending large files, use a compression utility, such as PKZip, to reduce the file size. This makes photos easier to download and avoids attachment size restrictions placed on many e-mail accounts.
Prints.
You can always share digital photos the old-fashioned way—as prints. Photos for printing should be saved at higher resolutions, such as 266 or 300dpi using CYMK (cyan, yellow, magenta, black) colors. Many formats will work but we recommend TIFF (.TIF) because, unlike JPEG, no compression is involved, resulting in higher quality prints.
Online sharing.
There's been a boom in commercial websites that host photos. Generally, you upload your photos, and the company does the rest, giving you a Web address to view the images. Popular hosting sites include dotPhoto.com, Ofoto.com, Webshots.com, Shutterfly.com, and Apple's iPhoto.com.