A TALE OF TWO FAMILIES:





How the Internet is Making
Life Easier for Everyone

From a large, busy city nestled at the foot of the magnificent Rockies to a smaller capital city on the Plains, the Internet is an important tool in careers and continuing educational pursuit. In one story, the computer is the career; in the other, its use aids a career.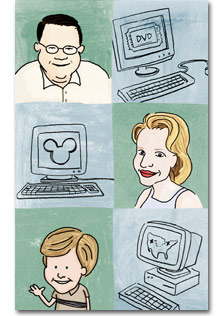 TRhonda Weyenberg says, "Without the computer, John wouldn't have a job and I couldn't do my job. So obviously, the computer and Internet are very important to us. We both work 8-10 hours a day on the computer in our careers."
Rhonda and John Weyenberg live in Lincoln, Nebraska where John is a systems programmer and Rhonda is employed as a comptroller for a printing and mailing company. At work, Rhonda receives tax and government forms on the Internet and deals with compliance issues. She likes the convenience of being able to log on at home for data. Rhonda's personal uses of the Internet involve scrapbooking sites and planning wedding and baby showers. Search engines have proven to be a valuable tool for each of these activities. For John's birthday, she planned a trip to Hawaii by exploring websites, making reservations and even arranging a birthday dinner. She shops for clothing and household items on the Net and describes AllRecipes.com as "awesome."
John says, "I have a 'three click theory' about the Internet—you can find out anything about anything in three clicks of the mouse." Whether he's traveling for business or pleasure, he finds that looking up maps of his destination raises his comfort level when going to unfamiliar cities. He believes the Internet produces a huge advantage in finding products and doing price comparisons. His favorite site for this is mysimon.com. "You put in the product name or model and then receive a list of where you can buy it and at what price." In John's job, the Internet has a huge amount of information and it saves him miles because he can make problem determinations and solve problems on servers from his computer. This computer savvy couple thrives on the convenience of the Internet!

Back to Top

Back to Table of Contents




Kent, Elizabeth, and five-year-old Pierson Lund reside in Denver, Colorado. They are very enthusiastic about using the Internet to pursue their individual activities. Kent, an executive vice-president and general counsel in the securities industry, says, "My use of the Internet divides into about ninety percent professional activities and ten percent personal use. I send Word documents as attachments to customers and offices all over the country and also outside the United States." Working on an MBA degree has made the Internet an even more important tool for Kent. Following are just a few examples of how the Internet has aided Kent in pursuing his degree: business professors have their own websites made available to students; text books have outlines at their websites; his study group e-mails first drafts to each other for discussion and study; quizzes are often presented on the Internet.
Elizabeth relates the convenience of identifying and locating products when they recently finished remodeling their basement. She frequently uses e-mail and says, "I love that I can keep in touch with family and friends so easily." She also appreciates the improvement in her typing skills—"as a practicing attorney for twelve years, I had a secretary who did the typing. Now I enjoy using the Internet for business letters and forms. It is more efficient than writing longhand." Elizabeth particularly enjoys a service called NetFlix that allows her to select and order DVDs online and receive and return them by mail.
Pierson has also discovered games on CD-rom that he enjoys. His favorites are the Tonka Truck game and Disney games. This family keeps their computers busy every day!