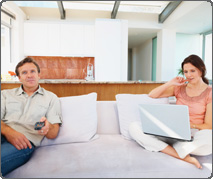 Internet Connections:
TV and Twitter in Tandem
This social media movement suits viewers, networks, and performers to a "T"
For a decade, fans of the CBS reality show Survivor were forced to rely on glossy magazines and online extras for inside information on their favorite players. That is until 2011, when the show's host, Jeff Probst, began using Twitter to provide real-time commentary as each episode aired.
Fans watching Survivor with a laptop or tablet in hand can now get an insider's view of life on the island — and pose their most burning questions directly to Probst. (Do the girls ever get to shave? No.) Through Twitter, fans are even influencing the show's format and direction. In one off-the-cuff tweet, Probst asked followers which departed contestant they'd like to see return. Response was so enthusiastic that producers invited the clear favorite, Ozzy Lusth, back for the next season.
Twitter has also made the viewing experience more immediate and interactive. Survivor fans no longer have to wait until morning to rehash each episode around the water cooler. Through Twitter, they can discuss the show's most memorable moments as they happen and with thousands of fellow viewers. They've become part of one of media's biggest movements — social television.
The Rise of Tweet TV
To the uninitiated, chatting online while trying to follow a TV program may sound like a recipe for migraines. However, if you've ever texted your commentary to a friend during the Academy Awards or Super Bowl, you've already engaged in a bit of social TV. Twitter takes this interaction a step further by allowing you to weigh in, not just to your friends, but to a global audience.
Because tweets are limited to 140 characters, the service lends itself to rapid-fire, real-time chatting about programs in progress. As of December 2011, Twitter users were generating about seven million television-related tweets per day.
The TV-Twitter marriage shows every sign of lasting bliss. To date, all five of the busiest moments in Twitter history correlate with great moments in television. When the anime film Castle in the Sky screened on Japanese TV last December, it set a new record by garnering 25,088 Twitter mentions per second. At a distant second sits Super Bowl XLVI, subject of 10,245 tweets per second during its final moments. Rounding out the top five list are Madonna at the Super Bowl, Tim Tebow's Win, and Beyonce at the VMAs.
Technology gurus agree that tweet-able TV is a phenomenon to watch. MIT Technology Review recently ranked social television among the 10 most important emerging technologies, while Wired editor, David Rowan, listed it among the top six tech trends of 2011.
Networks Take Note
Savvy media executives know that today's TV viewers expect to interact with the programs they love. There is also emerging evidence that social media buzz draws in new viewers. Research by NM Incite found that in the weeks leading up to a show's premiere, a 9 percent increase in social media chatter correlated with a 1 percent increase in ratings. Advertisers are also drawn to oft-tweeted programs because fans enjoy watching them in real time — commercials and all. TV networks encourage tweeting through a variety of methods:
Onscreen hashtags - Many programs adopt a dedicated Twitter handle (#Oscars, #Glee, #Bones) and display it in the bottom corner of the screen. By plugging the hashtag into Twitter's search feature, fans can connect with others who are chatting about the program.
Live tweeting - Fans aren't the only ones tweeting about their favorite shows. TV personalities like Kyra Sedgwick (The Closer) and Masi Oka (Hawaii 5-0) have used Twitter to provide live, behind-the-scenes commentary as their programs air. The reality show, The Voice, takes this concept a step further by displaying the judges' tweets onscreen in real time.
Interactive reporting - Turn on any talk or news program these days, and you'll hear not only the story of the day but what viewers have to say about it. During the 2011 wedding of Prince Charles and Kate Middleton, for example, ABC encouraged viewers to weigh in using the Twitter hashtags #RoyalSuccess and #RoyalMess. The most popular tweets were shared on air.
Social TV websites - Some networks have created companion websites to encourage tweeting. Visitors to HBO Connect and Bravo Tweet Tracker can access live Twitter feeds for every show in the lineup as well as real-time visualizers that show what fans are buzzing about. The companion site for the 2011 Video Music Awards included an interactive seating chart that showed which stars in the audience were tweeting and what they were saying.
Looking Ahead
Social TV is a relatively new phenomenon, and the networks are eager to push its limits. Fan feedback on Twitter is now used to judge reality shows, gauge the effectiveness of ads, and source questions for the presidential primary debates. In the near future, Twitter feedback may shape the story lines and outcomes of our favorite shows. While not everyone may be thrilled with tweet-able TV, the idea seems here to stay. And as multitasking in front of the TV goes, it sure beats folding socks.
Ready, Set, Tweet!
Ready to join the Twitter conversation about your favorite show? Here are four simple ways to get started:
1. Follow the stars. Many actors, show hosts, and news anchors are regular tweeters. To add them to your feed, log into your Twitter account, type a name into the search box, and click "follow" next to the appropriate account.
2. Surf show sites. Many program sites list their usernames (@TrueBloodHBO) and popular hashtags (#TrueBloodQuotes, #TBWithdrawal) to encourage conversation. Some sites will also announce live chats and other Twitter-related promotions.
3. Ask around. In deciding whom to follow, 69 percent of Twitter users say friends are a major influence. Ask your pals which shows spark lively Twitter conversations and which stars are most engaging online.
4. Check the screen. During a program, networks often display relevant usernames and hashtags onscreen. Commercials may also plug the show's Twitter presence.