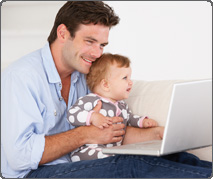 Cover Story:
Social Media From the Cradle to the Grave
How online sharing helps us shape major life events
No doubt about it — there's a whole lot of socializing going on. The number of Internet users who participate in social media is up four percent from last year. Facebook alone now has 900 million users, with one quarter of those users added in 2011; over 3.5 billion pieces of content are shared on Facebook each week. Twitter has over 100 million active users, and new number-three site, Pinterest, has about 12 million active users.
Two-thirds of social media users say that keeping in touch with friends and family is their main reason for using these sites, meaning millions of people are using social media to plan and share the important events in their lives. Parents-to-be are posting updates before, during, and after the arrival of a child. Children are making friends in different places, exploring new interests, and building skills. Those looking for love are finding dating partners. Engaged couples are doing everything from announcing their engagement to exchanging vows online. Even death can be social as friends and family use various applications to share memories and honor the deceased.
We've gathered a variety of examples here about how social media users are taking advantage of the medium to enhance every stage of life from the cradle to the grave. You're sure to find practical ideas, and a few surprises, along the way.
Sharing the Big News About Your Little Bundle
What used to be a very private experience now has the potential to be very public. Expectant and birthing parents can document everything from the pregnancy test to the birth in minute detail through YouTube videos, Facebook posts, Twitter updates, Flickr photos, and other social media venues. Here are just a few ways parents are sharing their experiences through social media:
Facebook: Status updates announcing the pregnancy and news along the way, belly photos, videos, and sonograms
Twitter: Hashtags (ongoing conversations on a particular topic), chat sessions, and posts with up-to-the-minute birth details
YouTube: Videos of pregnancy tests, doctor visits, and even births
Pinterest: Boards with ideas for the baby's room, showers, crafts, and more
Oh Baby!
Not every parent-to-be wants to share very personal details, but many do. A recent Chicago Tribune article reports that, in a survey of over 1,000 mothers-to-be conducted by American Baby magazine and publisher Good Books, "Fifty-one percent of respondents planned to record the birth — as it takes place — through social media, with 42 percent planning to post regular Facebook status updates and 9 percent planning to tweet about the experience."
Most of the women in the survey were between the ages of 18 and 29, and there are generational differences in how much people are sharing about these intimate events. Younger people are generally willing to be more public with their gender announcements, swollen feet photos, birthing plans, and doctor visit and "kicking baby" updates.
Baby Sites
In addition to enabling new parents to share news, social media sites like Baby Gaga (baby-gaga.com) provide useful communities for them to research healthcare professionals, discuss concerns, and gain support. Sites like Kidmondo (kidmondo.com) and AboutMyBaby.com (aboutmybaby.com) allow parents to post information about their newborns to share with family and friends.
With so many social media options for expecting and new parents, many babies have an online presence before they even have a name!
Pregnancy and Childbirth Sharing: How Much Is Too Much?
While many social media connections may be thrilled with your pregnancy news, not everyone wants to hear about every detail. To avoid "oversharing," keep these suggestions in mind:
1. Don't share news (including gender, names, etc.) you're not comfortable sharing.
2. Don't share news you haven't already shared, face-to-face, with those closest to you.
3. Except on pregnancy or childbirth-specific sites, keep bodily function information to yourself.
4. Think twice about posting that sonogram photo. Some people find them too personal.
5. Rather than posting birthing updates on social media, consider starting a private blog for that purpose.
Making Social Media Safer for Kids
Today's children are growing up with social media, which can be both positive and negative. Social media for kids, as for adults, is a means for connecting with others, self-expression, game playing, and exploring new interests. But for kids, it can also be a source of bullying, ill-intentioned adults, and inappropriate information.
The Social Media Generation
While a number of kid-specific social media sites exist (see below), many children access applications meant for adults, with or without parental permission. Facebook is meant for those 13 and older, but some very young children still have Facebook profiles.
Boundaries and Rules
The key to ensuring appropriate use of social media for kids is educating them about what it means to be a good digital citizen. Yet many schools have yet to implement such training, and some parents aren't able to provide guidance because they're still trying to figure out the digital world themselves.
In order to stay safe with social media, kids need to understand the basics of privacy, boundaries, appropriate sites and interactions, and how much time to spend online. In other words, kids need to be given rules such as, "Never agree to meet someone in person who you've only communicated with online," "Never swear online," or "Spend no more than one hour per day online." Rules usually go over better if kids are given the chance to help set them.
Parental Participation
Another factor in keeping kids safe with social media is your own participation. You can set a good example by limiting your time on social media sites. You can also help keep your kids safe by limiting the visibility of photos of them to people you know well and trust. You can monitor your kids' social media interactions by friending them on social media sites, checking their profiles, and reviewing their friend lists.
Sites like SafeKids (safekids.com/kids-rules-for-online-safety), StaySafeOnline (staysafeonline.org/in-the-home/basic-internet-safety-kids), and Microsoft (microsoft.com/security/family-safety/kids-social.aspx) offer more great social media safety tips for kids.
Just for Kids
One way to make sure kids are engaging in social media safely is to encourage them to sign up on kid-friendly (and safety-conscious) sites like those listed here:
giantHello (gianthello.com) - For kids aged 7 to 13 to play games, message friends, upload photos, and participate in fan pages.
ScuttlePad (scuttlepad.com) – For younger kids to connect with other kids all over the world, send messages, join interest clubs, and play games.
Yoursphere (yoursphere.com) - For kids up to age 17, it's designed for playing games, participating in interest "spheres," entering contests, and writing blogs.