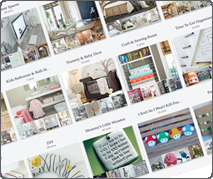 Social Media Basics :
The Right Way to Pin on Pinterest and Connect
Learn how to pin content respectfully, legally, and responsibly
Pinterest is a rapidly growing social media website where users create and share content in much the same way we collect ideas on a kitchen bulletin board. The more people who use Pinterest, the more interesting Pinterest becomes. Since its launch in March 2010, Pinterest has exploded in popularity. It is now the third most popular social networking site, surpassed only by social media giants Facebook and Twitter.
Pinterest images comes from all over the Web. Pinterest users create "boards" to sort ideas into categories. You might have one board to show your style inspiration and other boards for collecting delicious-looking foods with recipe links, favorite cars, art, typographic quotes, or anything visual. Images are called "pins."
3 Ways to Add Pins
As the site gains in popularity, Pinterest users are questioning what they can legally post. In particular, users of Pinterest should make an attempt to protect copyrighted material. It's not difficult to do once you understand the different paths to adding content on Pinterest.
You can add pins to your boards in three main ways: 1) post original content, 2) re-post or repin someone else's pins, and 3) link to content elsewhere on the Web. Other people Repin or Like your pins, which sends the images speeding over the Internet, where your ideas are shared with people all over the world. Each of the three ways of sharing content on Pinterest presents unique copyright and legal questions.
1. Pinning Original Content
The easiest and legally safest way to add pins is uploading content you created. You are completely within your rights to pin your own photo of your own cupcakes, for example, because both belong to you. Pinning them gives people permission to repin them. It's important to understand, even if you delete a pin or your entire Pinterest account, your repinned content could stay on repinners' boards forever. For this reason, many professionals are very careful about what they post. For the average user, it's not much of a concern, unless you pin something that breaks a law or might cause you trouble personally.
2. Repinning
The second way to add content, and most common activity on Pinterest, is repinning. Let's say you come across a photo of someone else's cupcakes, with a link to the recipe. To add this content to your own boards, you must first verify that you are pinning material they had a right to pin in the first place.
Before repinning, ask yourself one question: Who created this? If you click on the pin and find that it came from a webpage the pinner owns, or they pinned from an original source, it's probably okay to repin. Sometimes pinners haven't linked to an original source. In that case, look for the original owner and pin from that site. (See tutorial.)
3. Pinning from other sources
The third way to add content to Pinterest is pinning from other sources on the web. Let's say you see a cupcake recipe created by the person who owns the blog or cooking site where you found it. Once you set up your Pinterest account and upload a badge, you can pin the image directly from that site. Original pinning is one of the most exciting ways to use Pinterest, and it's a great way to get loyal followers. It's also the kind of pinning that requires the most attention to copyright protection.
Realistically, you won't verify ownership every time you repin. There are no "pinning police." However, it's important to take copyright laws seriously and check sources regularly. If someone complains, you at least can show you made the effort to do it right. Pinterest offers more helpful advice on their "Pin Etiquette" page at pinterest.com/about/etiquette.
Pinning With Integrity
These guidelines will help you pin responsibly and with respect for content owners and other users:
Most websites with original material don't specify whether it's okay to pin. The only way to be sure is to ask. Most people will be overjoyed to share and will ask only that you include a link. It's probably not feasible to check every time so just make sure you include the proper original link. They can always ask you to take the pin down.
Some sites include a "Pin It!" button, which gives you undeniable permission to repin without asking. When you see this button, feel free to pin away!
Website owners can block pins. If you can't pin from a site, this might be why. To make sure you stay within your rights, do not pin in this situation.
If someone asks you to take down a pin, it's best to do it. Sometimes content owners go straight to Pinterest with removal requests. Pinterest may delete your pin without asking you. Remember, Pinterest isn't the bad guy; it has to follow rules, too.
If it's illegal outside Pinterest, it's illegal inside Pinterest. No pornography, violence, slander, or infringement of other people's privacy.
Even though some things are not illegal, it's a good idea to follow ethics and morals you would follow anywhere.
The Internet is full of exciting new technologies and new ways of looking at the law. In some cases, the law will have to evolve to fit these changes. Online copyright and intellectual property issues are being hotly debated now. Watch for policy changes on sites like Pinterest to make sure you are following the most current rules. As long as you do so to the best of your ability, you probably have nothing to worry about. Use common sense about what's okay to pin, and have fun with Pinterest.